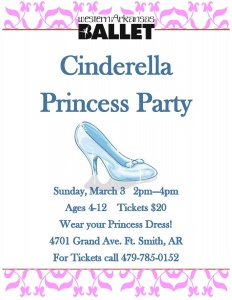 Cinderella will be at Western Arkansas Ballet, 4701 Grand Ave., on Sunday, March 3, 2019, from 2:00-4:00 p.m.
Princess Cinderella is having a party for children between the ages of 4 and 12. She will be serving sweet treats, fun crafts and teaching a beautiful dance. Also, one lucky guest will have a chance to win 2 tickets to one of our Cinderella Productions on April 5 or 6.
Drop off your princess in her costume, if you would like, and let's have a Ball!!
The cost of all this fun is only $20. Purchase your tickets over the phone or in person at the studio and we will put you on the party list. Tickets must be purchased in advance by Friday, March 1.