Summer Workshops

Lorraine Cranford Summer Dance Workshop – June 3-8, 2018
An intensive dance workshop for students of dance ages 11 and older. Prerequisite for enrollment is two or more years of classical ballet training.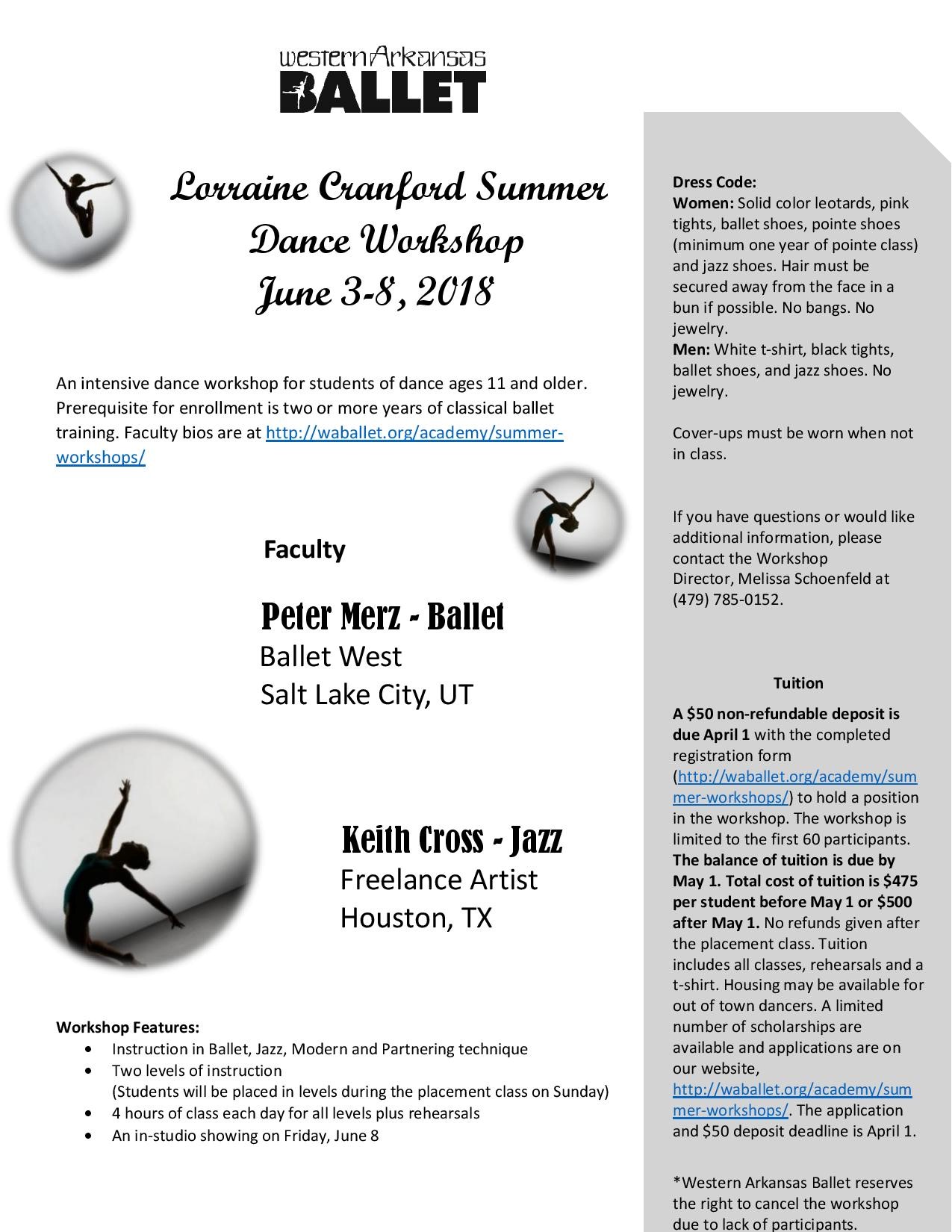 Faculty Bios
Peter Merz-Ballet
 Peter Merz joined Ballet West as the Director of the Academy in 2015.  Peter is in demand throughout the US as a master teacher and is known for his enthusiastic and encouraging approach to ballet training. He has choreographed over 40 original ballets across the USA and internationally.  His award-winning choreography relies heavily on classical ballet but is informed by his passion for contemporary dance forms. As a performer, he worked with the Dayton Ballet, the Louisville Ballet, and the Cincinnati Ballet. In 2002, Peter served as the Artistic Administrator for the USA International Ballet Competition in Jackson, MS. In 2004, Peter joined the faculty of Point Park, where he was an associate professor of dance and Head of Ballet.  He has served as a judge and Master Teacher for Youth America Grand Prix, the American Dance Competition, the American Ballet Competition.   He has twice been named Outstanding Choreographer by the Youth America Grand Prix and was also honored to be named Outstanding Teacher by that organization in 2014.  He holds a BFA in Theater Design and Production from the University of Cincinnati's College-Conservatory of Music, and an MBA in Sports, Arts, and Entertainment Management from Point Park University.
Keith Cross-Jazz
Keith Anthony R. Cross: Graduate of The High School for The Performing and Visual Arts, Founder of Teundu Inc., Artistic Director of Texas Dance Theatre (1990-2000), Master Teacher for Cross Jazz Tours,  Owner of American Jazz Dance Convention.
Mr. Cross has worked for such organizations as Frank Fuher International, Texas Association for Physical Education Recreation on Dance,, Texas Commission on the Arts, Young Audiences of Houston, Dance St. Louis, Mississippi Dance Association, Dance Masters of America Inc., Dance Olympics of New York, The Jazz Dance World Congress, The International Ballet Competition & Festival, Tulsa Ballet, Huntsville Ballet (Al. ), Ballet Met, Jazz Met,  Boston Ballet, Houston Ballet, Western Arkansas Ballet,  Academy Lupec's Mexico, Berry Stephen's Academy of Dance Amsterdam, Southwest Jazz Ballet.
Keith's television credits include The Sammy Awards, Houston Grand Opera's "Tremonisa", NBC Chicago Emmies and Star Search.  He has worked with such talents as: Mary Martha Lappe, Delia Stewart, Gilbert Rome, Debbie Allen, Hinton Battle, Maurice Hines, James Brown, Matt Mattox,  Gus Giordano Frank Hachette,  Dorothy Lester,  Al Gilbert,  Alvin Ailey, Denise Jefferson,  Ann Reinking,  Anna Marie Holms,  Bruce Marks,  David Nixon,  John  McFall, April Berry, Angela Landsbury,  Robert Goulet,  Patsy Swayze, Phillip Otto, and Marcello Angelini, Rick Odems, Fredrick Franklin, Glen Hunsucker, Ben Stephenson, Ann & Nick Palijenko, Debra Quinnum, Janie Parker, Cleo Parker-Robinson, Leo & Solie, Tim & Daphne Reed, Caros Acosta, Lauren Anderson, Sandra Organ, Dominic Walsh, Ed McMann, Dorell Martin, & Stephan Boyd.  Keith has been called the ballet dancer's Master Jazz Teacher.
Dancer for SWRBA, Emerging choreographer for SWRBA (now RDA).  Mr Cross has graced the pages of such publications as: TWT (This Week in Texas), Life Magazine, Houston Metropolitan Magazine, Dance Magazine, Dance Spirit, Dance Teac Now, The Houston Post, The Chicago Sun Times, Jazz Danceology: Teaching and Choreographing Jazz Dance and The Big Click: Photographing Texas. He was the first African American male to teach at IBC. Cross danced and choreographed for James Brown for the Living in America Tour. He has received awards for choreography for numerous Texas State Drill Teams, Dance competitions and Dance Companies.
Summer Dance Camps – June 11-15, 2018
Summer Dance Camp Registration Form
Sleeping Beauty Camp
Ages 4-6
June 11-15
$75.00
10:30 a.m. – 12:30 p.m.
Each day of camp features a dance class and studies explorations of music, dance history, nutrition, creative expression, mime, dance vocabulary and dance demonstration.
Swan Lake Camp
Ages 7-9
June 11-15
$85.00
1:30 p.m. – 4:00 p.m.
Each day of camp features a dance class and studies explorations of music, dance history, nutrition, creative expression, mime, dance vocabulary and dance demonstration.
A "mini" sampling of what WAB company is like. This specialized camp is for students who are interested in being a member of company or want to expand their dance knowledge and ability. Each day will include a technique class, a lesson about ballet history, stage makeup, nutrition, how to take care of the dancer's body and finish with learning choreography. There will be a studio showing on the final day. This camp will be a great way to peer into your dance future.
Mix it up in this Hip Hop/Jazz combo, from the stages of Broadway to the streets of New York. Expand your style and your diversity with instructor Nicholas C. Mesa.
*Register for Pre-Company and Hip Hop/Jazz Workshop together and receive a discounted combined tuition of $200.